Our Mission Statement
Camp Gan Israel is a summer camp dedicated to enriching the lives of children from diverse Jewish backgrounds and affiliations through a stimulating camping experience. CGI of Las Vegas is part of the largest and fastest growing network of day camps. With innovative ideas and creative activities, we provide summer fun and inspire children to reach new and exciting heights!
THE PREMIER
JEWISH DAY CAMP
Every day at Camp Gan Israel is filled with diverse, exciting recreational activities such as sports, swimming, creative arts, Shabbat experiences, and much more. In addition to a great on-campus experience, there are also regular trips to childrens' favorite places.
Our Facility
Our campsite, is uniquely suited for a great camp experience. The spacious indoor and outdoor facilities will enable us to provide campers with summer fun, whatever the weather outside. Two specially designed playgrounds, playing fields, air-conditioned classrooms, an auditorium, and common areas all add to the Camp Gan Israel summer experience. Our Campus is located at 1312 Vista Drive.
Dedicated Staff
Our dedicated staff truly care for the safety and happiness of each child. Our certified staff travel from all over the world to ensure that we have the best team possible to look after your child.
Packed Days
Swimming, field trips, sports, and baking are some of the fun activities during an average camp day. Biweekly electives give each child their chance to shine and enjoy their favorite pastime.
Amazing Facility
Our state of the art facility is well-suited for each camper needs. Library, gymnasium, art room, science lab, kitchens, and basketball courts – guaranteed there is something for everyone!
Jewish Culture
Jewish themed activities are enjoyed by all campers throughout the day. Children experience a love for Judaism, our ancestors, and the land of Israel through song, play, drama and fun!
Interested in enrolling your
child in our Jewish Day Camp?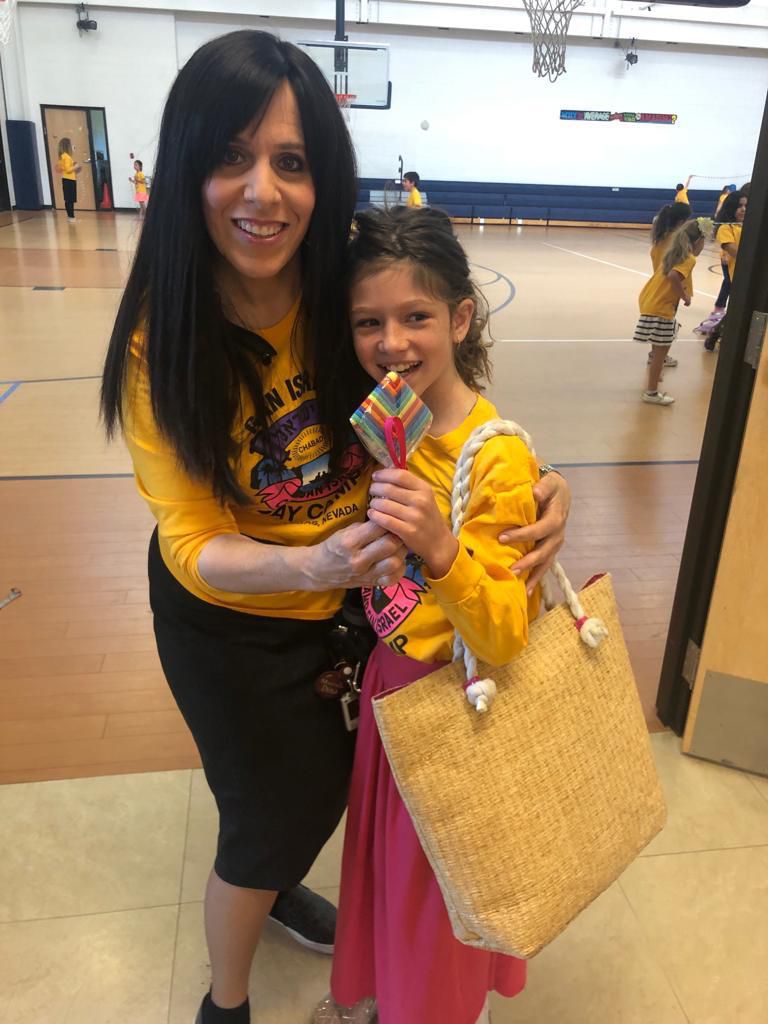 Working with us is as easy as 1, 2, 3
This is how easy it is to get started!
1. Email or call us with any questions.
We can be reached via e-mail at [email protected] or by phone at 702-259-1000
2. Register your child online.
CLICK HERE to complete one registration form for each child.
3. Expect a welcome confirmation e-mail.
Expect your confirmation e-mail to arrive upon successful registration.
We look forward to hearing from you!
See what our parents are saying...
"Where do I begin to express how happy we are with Gan Israel Camp, that makes us return every year? The variety of the fun activities, the staff that is always full of life with infectious happiness, the full hours and the happy children coming home every day. One complaint is… why does summer have to end?"

Rachel Tenenbaum
"As a mom of a fourth time camper returning to Gan Israel Las Vegas day camper I could not be more pleased with this camp! A place where love of Torah and Mitzvot are seamlessly coupled with FUN & JOY! A true GEM in the desert."

Dena Jacobson
"Our kids came home happy, laughing, singing, and sharing stories from their fun-filled camp days. Their counselors have always been so incredibly loving and caring. And overall, CGI is a heimish Jewish environment. (And great directors to boot!)"

Wendy Riback